Shifting to the Nonprofit Sector: Career Strategy
Client Example:
My name is

Damien

S. and I'm wanting to shift to the nonprofit sector and develop a career strategy. I've been in sales my entire career, but I'm really interested in the nonprofit sector and want to be a development coordinator for a small nonprofit.  I have been a top producer in many of my positions and have achieved year-over-year growth. I've applied to several local nonprofits but am not getting a callback.  Besides modifying my resume to fit the development jobs that I am seeking, what else should I consider? 
Here are some questions I would start asking him during a career strategy session and ones that anyone in the same situation should consider before moving forward.
What is it that makes you a good salesperson and why do you feel confident that sales translate into fundraising?
What cause or mission are you passionate about?  In the same manner that you need to be passionate about the product you are selling, you need to be passionate about the cause you are representing.
Do you have a solid understanding of nonprofit management logistics? Do you understand the donor acquisition time frame vs the client acquisition time frame?
Damien
needs to consider his answers and have the ability to confidently articulate his position on these topics as well as many others.
Are you facing a similar challenge?  At M. Santiago Group, we are not just Certified Resume Writers and Nonprofit Consultants. We're nonprofit leaders who have raised significant charitable contributions! Our professional consultants can assist you in putting it all together for you to shift into the nonprofit sector.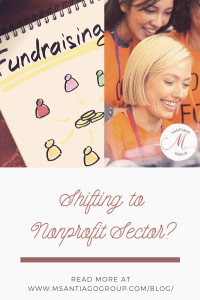 Connect with us: