Overcoming Career Challenges + New Job Listings 4/2/20
During tragedy, heartbreak, anxiety, and career challenges, one of our clients received a full-time job offer this week! M. Santiago Group had the privilege of writing a professional resumé for him. Like so many individuals, his previous role ended leaving him wondering how to provide for his family. This was not an easy accomplishment and his aggressive search took a considerable amount of time, compromise, and managed expectations.
Here are a few facts about his journey.
He critically considered what he would be willing to compromise while still striving to obtain his minimum salary requirements.
Some of the compromises he was willing to consider were:

A less desirable work schedule
A temporary contract vs. a permanent position
Limited workplace perks

One challenge he encountered was that some of the companies he was interested had implemented hiring freezes. This drove him to be become even more aggressive in his search while trying not to panic.
Like many organizations, the company that hired him recently adjusted their operations to accommodate video conference interviewing and remote working.
We cheer many of you on as you share more of your career challenges and victories. For those of you who are still searching, here are some companies that just posted jobs with several providing remote working opportunities. You and your families are in our continued thoughts and prayers.
Edward Rose – Accounting Specialist
Communications Specialist – Remote
Ellumen – Information Assurance/Cybersecurity Officer – Remote
Ellumen – Database Administrator – Remote
Boardable – Customer Success Associate – Potential Remote Position
Creative Circle – Remote – National Delivery Recruiter
Creative Circle Graphic Designer –  Indianapolis, IN 
Employee Relations Manager – Amazon
Allstate – Indianapolis, IN – Catastrophe Field Property Adjuster
Trillium – Indianapolis, IN – Health & Safety Coordinator
U.S. Department of the Navy – Administrative Technical Specialist  – Crane, IN
Amentum – Program Management Support Specialist -Odon, IN
Serve You RX – Wisconsin Based company with several opportunities
Pharmacy Technician
Director of Provider Contracting
IT Manager — Integrations and Reporting
Benefit Coding Specialist I
Water Mission – Remote Positions
National Director of Volunteer Leadership
Planned Giving Director
FedEx Manager – Special Assignment
CSL – Senior Director, Site Supply Chain – Illinois
Anthem – Project Management Marketing – Nashville, TN
GEODIS – IT Project Administrator – Brentwood, TN
Tyson Foods, Inc. Benefits Counselor/ HR Administrator – Goodlettsville, Tennessee
Blackburn & Green – Legal Assistant – Indianapolis, IN
Hickory Treatment Center – Business Office Administrator – Indianapolis, IN
Executive Assistant – Children's Bureau – Indianapolis, IN
CDP Solutions – Plant General Manager – St. Louis, MO
Cigna – Reimbursement Eligibility Specialist – St. Louis, MO
United Health Group – TeleSales Supervisor – Maryland Heights, MO
Claim Representative – Bodily Injury Specialist – Cornerstone National Ins. Co. Columbia, MO
Envision, LLC – CPG Analyst – Cincinnati, OH
Central Point Partners – Infrastructure Risk Analyst – Columbus, OH – Remote
VACO – Operations Manager – Cincinnati, OH
Department of Economic Development & Planning – Administrative Assistant II – Columbus, OH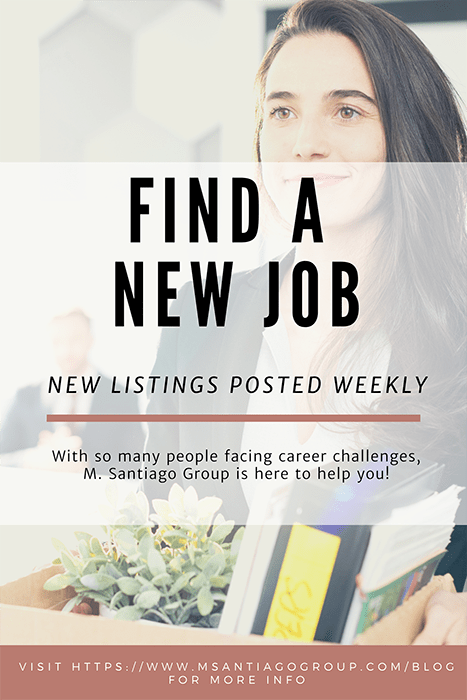 M. Santiago Group offers multiple professional career services! Contact us at 317-426-7889 or Click Here for our contact form.