Companies Hiring Now
We are so grateful for the many organizations that have made swift modifications to their standard operating procedures and have embraced telecommuting. So, what about unemployed professionals who are still seeking employment during this time or contracted professionals whose contracts have ended?  Is there still hope for finding a job and especially one that can be done during a government-mandated stay-at-home order?
For some, it's hard to imagine that companies are hiring in the midst of a global pandemic.  Here are a handful of companies that have posted jobs this week.  Please keep in mind that we serve clients in numerous States and that although these opportunities are not limited to one region, many are remote work opportunities. We'll update this weekly as we see new opportunities come across our screens.  In the meantime, we pray for your continued health and healing for those who are sick.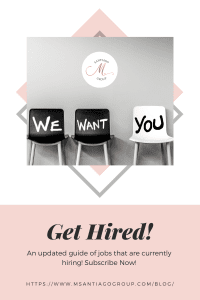 Do you need a career coach or an updated resumé? Contact the M. Santiago Group professionals now!