Top 5 Skills of Influential CEOs
Whether you are in the C-suite and seek to maintain influence or are in the process of researching and interviewing the next company you want to work for, look for and endeavor to become leaders with these qualities.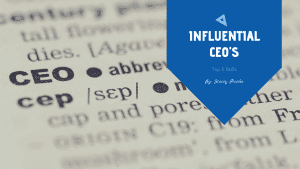 Highly influential CEOs deliver on these five communication skills daily:
1. Brevity
Successful CEOs understand the importance of clear, concise communication. They recognize that in the absence of simplicity comes confusion and chaos.
2. Collaboration
CEOs are known for their sharp minds, decisiveness and business acumen. Top-performing CEOs understand that if their organization is to reach the level of Fortune 500 companies, they must get their entire organization to think the same way.
3. Approachability
The title of CEO carries a lot of weight and can create an atmosphere of intimidation. Title alone can discourage employees from approaching leadership to converse on matters that are critical to ongoing company operations.
4. Transparency
Few things cost an executive trust and influence like a lack of transparency. When employees believe their CEO is hiding information or failing to act openly, they begin to question decisions. Successful CEOs recognize that transparency is critical for employees to see the work behind the scenes and understand the motives behind decisions.
5. Transformativeness
Successful CEOs aren't born great — they learn through a series of mistakes and lessons and from mentors and opportunities. Influential CEOs are always learning and recognize that personal development is the key to continued professional success. Research says 68% of employees thrive on hearing their CEO's success story and 73% desire to learn which obstacles their CEO has overcome.
Click here to read the full article with examples of each skill. Credits: Forbes, Stacey Hanke 
Invest in your future by using one of M.Santiago Group's Resume Packages.