Professional Tips for Relocation and Job Searching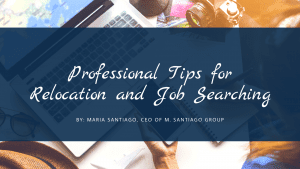 Communicate your availability for an introductory conversation or interview via Zoom, Skype, WebEx to name a few. The ubiquity of video chat and messaging software minimizes the need for costly in-person interviews and has become widely accepted. Letting a prospective employer know that this is an easy option for you can assist in breaking down the distance barrier prior to your move.
Including your email and phone number on your resume instead of your full address can decrease assumptions about employer-funded relocation expenses. Depending on the position, employers may look closer at local candidates first and you out-of-State address may create a red flag.
Leverage your professional network to set up meetings with industry professionals in the city that you want to relocate to. LinkedIn is a great tool for this and can allow you to create a list, send InMail, and share your professional goals.