Turn an Interim Role into a Permanent Job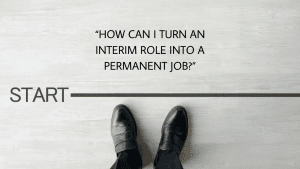 "How can I turn an interim role into a permanent job?"
The organization has just formally announced that a C-suite executive has announced plans to retire. You have had your eye on that position since you arrived at the company. Shortly after the news is released, the internal short-list being considered becomes public and your name is on it.  Weeks, maybe months, pass before you are finally offered the interim position. Your initial elation, quickly turns into, "How can I turn an interim role into a permanent job?" That's a good question! To answer it, you must ask a few other questions.
Why was I given this interim role?
An interim role is developed for several reasons. The goal may be to navigate a restructure, consult during a scandal, or simply maintain the status quo. The quest for a qualified candidate can be focused on internal or external candidates or a combination of both. Regardless, you have temporarily landed the job, but why were you not entrusted with the permanent position?
Perhaps the search for a replacement did not deliver a competent applicant. It could be that the desire is to promote from within, but no one is fully ready for the position. Even yet, there may be a crisis that has left a leadership void. It is vital for you to investigate and understand the reasons you have only been offered the interim role. Asking the decision-makers about the parameters defining the placement will give you keen insight. Approaching trusted colleagues, mentors, and career coaches can help identify skill level gaps and deficiencies. Express your desire to make this a permanent placement and seek transparency on the necessary requirements for earning the spot. Have the organization articulate in writing their plans for you should you not transition to the permanent role. Knowing this information will help you strategically define your approach as you navigate the assignment effectively. Hopefully making your goal to turn an interim role into a permanent job a reality!
How valuable am I to the organization?
Regardless of the reasons for placement as an interim, you can prove yourself. You have an opportunity to deliver concrete evidence of your value in the organization. Bring your strongest ideas to the table with careful preparation and vetting. Even if your authority is limited and execution is not an option, deliver flawless vision and attain buy-in. Maximize your efforts by creating clear connections of short-term successes with long-term goals. Carefully and strategically develop relationships within the C-suite level and the next level down. The managers that you support and empower are sure to boast about your leadership to the hierarchy. Cultivate a high level of trust with everyone. Due to your temporary assignment, some within the organization will be more venerable, frank, and honest with you. Make sure they know they are safe when you turn the interim role into a permanent job.
Associates who sought the same position or are navigating the loss of a peer, may be jealous or distant. Initiate contact and approach them with humility. Convey their value to the team by asking for their input and opinions. Communicate that they are crucial contributors and that together you will all continue this journey of learning and growth.
Casting vision backed-up by strong strategic planning and authentic relationship development will make you an indispensable leader. With this drive and focus, you are sure to turn this interim role into a permanent job.
What if I don't succeed in making this a permanent assignment?
"What if" questions are often useless, however, if you are not given the permanent role, this one is paramount. A plan of action for your future must be in place for you to transition with professionalism and dignity. If the assignment was from within an organization, clarity is needed in several areas. Can you submit to the leader now in the executive position? What is your new role? Will you have an opportunity for advancement in the future or have you "hit your lid" within this particular company? How will the organization help you meet your personal career goals?
An interim from outside the corporation will also need to plan well. What is the timeframe of the transition? Do you have other positions lined-up or will you need to plan financially and logistically for a job search? Are there other opportunities within this organization for you?
Developing a contingency plan is not preparing for failure, it is just taking personal responsibility for your own career advancement. Even with the most valiant and effective efforts, there can always be the looming fickle human factor in decisions. However, with dedication and grit on your part, the office is sure to be abuzz about the fabulous new executive. Congratulations and accolades will be coming your way for turning an interim role into a permanent job.
Are you still not sure about navigating this opportunity? We provide resume writing and career coaching that can assist you in all your professional efforts. To contact us today, CLICK HERE.