Embarking on a Successful Career Change
Beginning a Career Change
Grant, the director of operations for a small company, is a part of the Great Resignation, and the 70% of c-suite executives and senior management leadership across four countries who are considering quitting their jobs, according to Deloitte Insights. He has been instrumental in the organization's overall growth throughout the last ten years. Grant structured the organization's infrastructure, including developing and implementing best practices, KPIs, and corporate training programs for 750+ employees. He is heavily relied upon for many key initiatives but cannot fully unwind during the rare opportunities that he takes time off. He has initiated many discussions with senior leadership about having a better work/life balance, but it has yet to be successful. He has concluded that it is time for an exit strategy and a new beginning.
Whether you're a c-level professional leading an entire organization or a department through inflation costs and recession challenges or simply frustrated with your job's daily grind, you are not alone when considering a career change. We hear a variety of reasons for this from our existing clients, including leadership frustrations, lack of advancement opportunities, and burnout.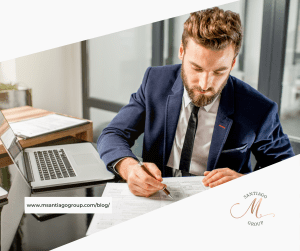 Career Transitions Take Time
In previous posts, we have discussed the steps you can take toward a successful career transition, including activating a career marketing campaign, leveraging your network, and exploring opportunities that have not been previously considered. But what about the time it will take you to land your next leadership role from start to finish? The Bureau of Labor Statistics data on unemployment duration suggests that more than a third of unemployed workers have been without a job for more than 27 weeks, making it imperative to be proactive in preparing for and starting your job search. Several factors are involved in the length of time it takes to get hired, including the demand in your industry, finding the right opportunities for you, the efficiency of the search committee, the interview process, and the salary negotiation timeframe. The various stages of securing a new job require careful consideration, preparation, and of course, patience.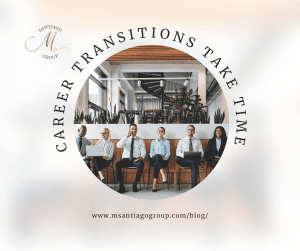 Are You Job Search Ready?
What if you need help with your job search? Here are a few questions to consider.
Does your resume focus match what you are looking for, and have you clearly communicated your goals to your 

resume writer

? It's essential to have a customized resume geared toward the position of interest.

Is the messaging across all of your documents, both online and offline consistent, painting a clear picture to recruiters and prospective employers?

Do you understand the hidden job market and the best job-searching methods?

Have you considered 

resume distribution service

s as a tool to bolster your job search and build additional connections?

Is your LinkedIn profile keyword optimized and branded in a way that supports your career goals?

Are you customizing your introductory or cover letter for each role?

Have you followed up with a strong value proposition statement?
At M. Santiago Group, we are here to support you through the various stages of contemplating a career change to negotiating your salary. Reach out for more information on how we can serve you.