Standing Out: The Benefits of Hiring an Interview Coach Part 2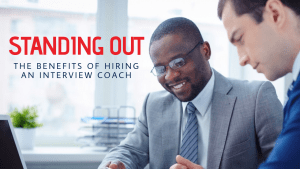 Walk-in with confidence and ace the interview. An interview coach can give you the tools you need for success!
Read Standing Out: The Benefits of Hiring an Interview Coach Part 1 
Custom Critiques
It is the coach's job to give honest assessments and insights on how you present yourself as a whole for the interview. This can encompass many areas such as your style, mannerisms, and both verbal and non-verbal communication. They will give you helpful feedback on what areas you can improve in and how. Perhaps you need a more business-appropriate wardrobe or perhaps you have a tendency to say "um" or "like" too often during the interview. These are examples of areas that the coach can critique you in and help you improve. Chances are that you will only get one opportunity to interview for this position, so the coach will help ensure that you are presenting your best.   
Mannerism Insight
Communication Feedback
Help Self-Presentation
Sharpened Skills
As you practice answering the interview questions with your coach, one thing they will help you with is streamlining your responses. The coach will help hone your answers so you come across poised and professional. This will help minimize rambling and ensure that you are sharing information that is important and relevant to the job interview. One of the most intimidating parts of an interview can be the unexpected, difficult questions that may take us off guard. Coaching will help prepare you for answering these uncomfortable questions so you can walk into your interview more self-assured.  
Streamline Responses
Articulate Answers
Build Self-Confidence
 As the old adage says, "Practice makes perfect". Hiring an interview coach simply allows you the opportunity to practice your skills in order to present your best self at your interview. This alone will give you an advantage so you can land that dream job. 
Are you looking for a knowledgeable interview coach? Contact us now!