Do I REALLY Need a Cover Letter?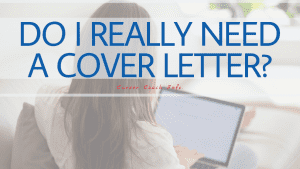 Heed Advice
In an era where the minimalism movement is in full swing and the philosophy of "less is more" reigns, there is a tendency to gravitate to finite "all or nothing" answers. There is also a willingness to do only what is absolutely necessary. This inclination has found its way to the cover letter and there are some who will say this relic is dead. Be careful of the advice you heed, for in the world of commerce there is a propensity for everything to come full circle and for dead practices to be resurrected.
No Cover Letter Mindset
Some feel recruiters do not read cover letters, but there are many variables in place that contribute to whether or not a hiring manager will. Be aware the "no cover letter" mindset is very narrow, only considering positions that are pursued through job boards and organizations with large hiring volumes with the intricacies of the executive search often being lost. One such case is executive roles are more likely secured through networking and personal referrals rather than the sterile, cold-call approach of mass-market job postings. In the case where a referral has led to applying for an opening, a cover letter is always needed. The industry of the search may also determine the need for this document.
Optional Cover Letter Mindset
Even when the posting developed by the HR department states, "Cover letter optional", it is uncertain as to how those actually interviewing and hiring will translate the "optional work" receiving a pass. A good rule of thumb is that prospective employers want to know you are motivated to excel and are not content with simply meeting the minimum required standards. The only time a cover letter is definitely NOT needed is when the message is explicitly stated, such as, "Do not include a cover letter". It is certain that the decision to include this document with the resume and application is complex but is an act of courtesy that should always provide concise communication and clarity.
Imperative Cover Letter Mindset
A well-developed cover letter is imperative as a poorly written letter can be more detrimental than no letter at all. It should maintain only professional information while being job and company specific. Rather than only rehashing the resume, it should be a personal branding tool that identifies how the brand and company are a good fit. It gives life to the potential merger of applicant and opportunity and a professionally certified career coaching services company can help you close the deal!
Specializing in supporting the executive, M. Santiago Group will be able to help navigate not only this dilemma, but many other unknowns of the job search journey. We offer assistance in determining whether a cover letter is needed along with expert cover letter writing that aligns with the resume. Other services available are resume writing, business profile development, interview preparation and industry alignment. Contact us to find out how we can assist you in landing your dream job. We will provide all the tools you need, cheer you on, and celebrate your success!